Why We Recommend
5 Hour Premium Open Bar
VIP Gala with Seating for All Guests
Champagne Toast at Midnight
Live DJ
Live Televised Countdown to NYE 2024
Black Tie Optional
Overview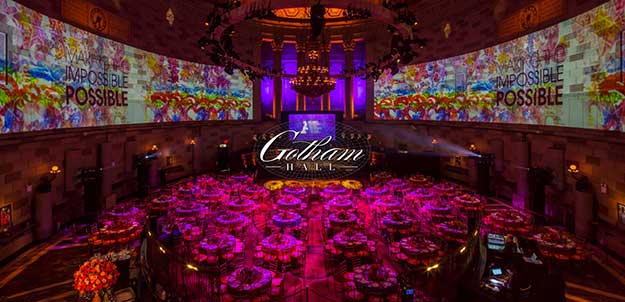 Gotham Hall, one of New York City's most iconic event venues, invites you to celebrate New York New Year's Eve 2024 in style. For the first time ever, Gotham Hall will host a seated-only VIP New Year's Gala, with no general admission (standing room only).
---
In the Know
5-Hour Premium Open Bar: Enjoy unlimited drinks from a variety of beer, wine, and premium liquors / cocktails.
Buffet Dinner: A delicious dinner will be served, with plenty of options to choose from.
Dancing: After dinner, hit the dance floor and party the night away!
Dessert: A sweet treat to add to the night.
Champagne Toast at Midnight: Raise a glass to the new year with a champagne toast at midnight.
Live Countdown: A live countdown will keep you entertained as you wait for the clock to strike midnight.
VIP Table Seating: You'll have a reserved table with comfortable seating for you and your guests.
Live DJ: Enjoy a Live DJ spinning your favorite tunes.
Attire: Black tie optional.
---
New York City's Gotham Hall, a historical and epic ballroom, is one of the city's most treasured event spaces. Formerly the Greenwich Savings Bank headquarters building, the now-renovated space is a sprawling and truly magical grand ballroom, in fact, one of the most magnificent ones around. The magical venue, located smack dab in Herald Square on 36th Street and Broadway, boasts the perfect combination of classic elegance, charm, and modern swank. The detail of the architecture, rife with Corinthian columns, a glided ceiling, and an epic stained glass skylight, is unlike anything else you will find in Manhattan. The place is truly a regal feeling.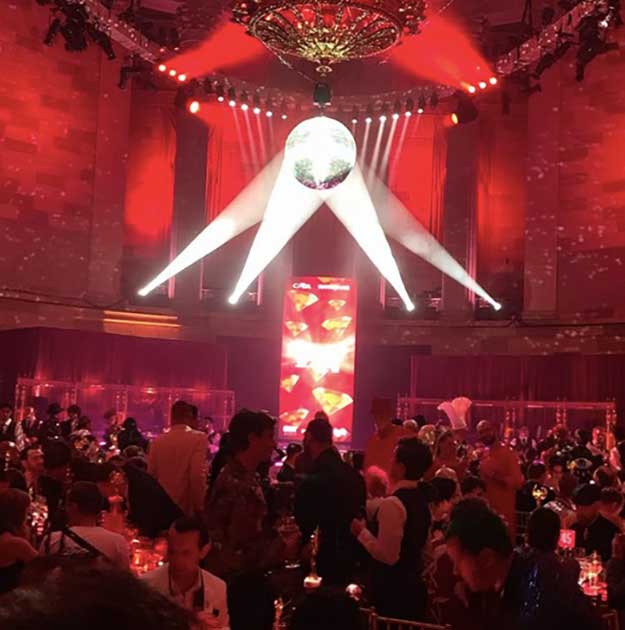 And this New Year's Eve, the fabulous Gotham Hall is opening its gorgeous doors for a what's-sure-to-be amazing NYE extravaganza! What better way to ring in the new year than at a posh, stylish, and classy fete in a space fit for a king? We can't think of one! With a prized ticket to the Gotham Hall NYE party, you will enjoy all the amazingness you could ask for. Doors open at 8 PM… and that is precisely when the open bar starts as well! You'll enjoy five fabulous hours of open bar to imbibe in all the festive cocktails you want. And of course, what goes along with cocktails? Food! A delicious buffet with a variety of apps and food will be available from 8 – 10:30 PM, followed by dessert to satiate your late-night munchies!
This is the absolute perfect spot for you to dance the night away… and you can do just that! A live DJ will perform and spin dance, hip-hop, rock, and top 40 hits from every decade all night long while you get your groove on! Yeah! Festive NYE party favors will be passed to get you even more in the spirit. And as the night gets later, a live countdown to 2024 will take place. Then when the clock strikes midnight, raise a glass to the new year with a complimentary champagne toast. Cheers!
So treat yourself like the celebrity you are by partying in style this new year and get your ticket to the Gotham Hall bash.
Get Access to the VIP Mezzanine
---
Select tickets have access to the VIP Mezzanine Area
Access to additional bar for drinks
Access to additional food buffet dedicated to VIP room
Access to separate dance floor inside the VIP Mezzanine
*** Inside the VIP Mezzanine Room ***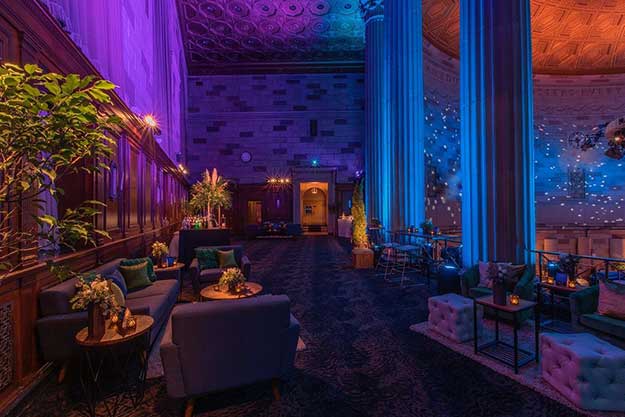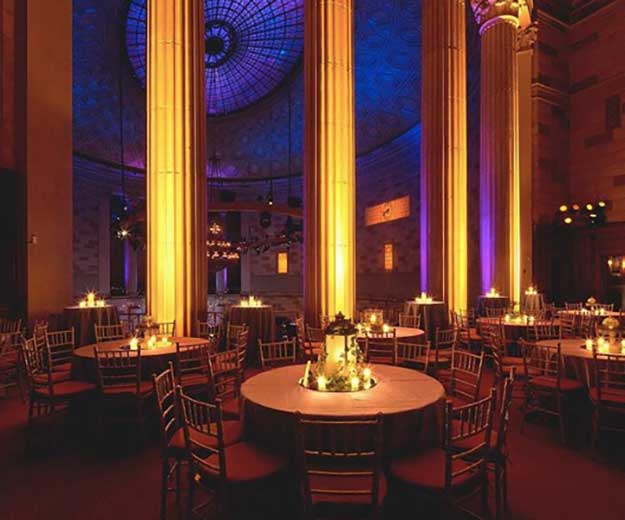 Dinner Buffet
Farfalle Pasta w/ Fresh Tomato and Basil - Al dente farfalle pasta, tossed with sun-ripened tomatoes and aromatic fresh basil, creating a simple yet vibrant dish that celebrates the essence of Italian cuisine
Penne alla Vodka w/ Light Cream Sauce - Penne pasta enveloped in a silky, light cream sauce with a hint of vodka, offering a smooth and subtly rich flavor profile
Chicken Cordon Bleu - Tender chicken breast, meticulously rolled with savory ham and melting Swiss cheese, creating a harmonious blend of flavors and textures, elegantly breaded and cooked to golden perfection
Stuffed Filet of Sole w/ Crabmeat - Delicate filet of sole, gracefully stuffed with a luxurious crabmeat and breadcrumb mixture, presenting a sophisticated and refined seafood experience
Sliced Flank Steak w/ Grilled Vegetables - Juicy, marinated flank steak, expertly sliced and served alongside a medley of freshly grilled vegetables, embodying a perfect balance of hearty and healthy
Rolled Eggplant Parmesan w/ Meatless Sauce - Succulent slices of eggplant, rolled and layered with a rich, meatless tomato sauce and melted Parmesan cheese, offering a hearty vegetarian delight
Boneless Chicken Marsala w/ Mushrooms - Succulent boneless chicken, bathed in a luscious Marsala wine sauce with earthy mushrooms, creating a dish rich in depth and flavor
Homemade Italian Meatballs - Traditional Italian meatballs, handcrafted with a blend of seasoned meats, herbs, and spices, simmered in a classic tomato sauce, reminiscent of a comforting, homemade meal
Seafood Paella w/ Shrimp and Mussels - A vibrant and aromatic seafood paella, brimming with tender shrimp and mussels, infused with saffron and a medley of herbs, capturing the essence of coastal Spain
Asian Style Chicken w/ Broccoli - Tender pieces of chicken, stir-fried with fresh broccoli in a savory Asian-style sauce, served with fluffy white rice for a delightful fusion of flavors
Famous Potato Croquettes - Our renowned potato croquettes, lightly fried to achieve a crispy golden exterior with a fluffy, creamy interior, creating an irresistible and comforting bite
String Beans Almondine - Crisp string beans, sautéed with slivered almonds, bringing a nutty crunch to this classic and elegant side dish
Croissant Sandwiches w/ Turkey, Ham, and Roast Beef - Assortment of delicate croissant sandwiches, filled with thinly sliced ham, turkey, and roast beef, offering a trio of classic flavors in a light and flaky pastry
---
Menu Subject to Change
This is a nightlife event and it is not intended to be a dining event -- If you wish to have a complete dinner it is recommended that you do so prior to attending this event
Premium Open Bar
Vodka - Grey Goose / Effen / Tito's
Gin - Tanqueray / Beefeater
Rum - Bacardi / Captain Morgan / Malibu
Tequila - Casamigos Blanco / Espolón Blanco
Scotch Whiskey - Johnny Walker Black / Glenlivet 12 / Singleton 15
Whiskey & Bourbon - Maker's Mark / Jim Beam Rye / Jameson / Jack Daniel's
Liqueur - Amaretto / Baileys / Kahlua / Sour Apple / Campari / Aperol / Triple Sec / Long Island Iced Tea / Sweet & Dry Vermouth
Sparkling Wine - Prosecco
Rosé - Domaine de Sainte Cécile
Bottled Beer - Budweiser / Bud Light
Soft Drinks - Coca-Cola / Diet Coke / Sprite / Club Soda / Tonic Water / Ginger Ale
Juices - Fresh Orange / Fresh Grapefruit / Cranberry / Pineapple
Mixers & Garnishes - Lime Juice / Sour Mix / Bloody Mary Mix / Angostura Bitters / Lemons / Limes / Olives / Cherries / Orange Wedges / Sugar Cubes / Olive Juice
What to know
Start Time
December 31, 2023 at 8:00PM
END TIME
January 1, 2024 at 1:00AM
ADDRESS
1356 Broadway
New York City, NY 10018
VENUE TYPE
NYC New Years Event Space / Attraction
AGE REQUIREMENT
21 and Over

CAPACITY
600
OPEN BAR
YES | Premium Open Bar
from 8 PM - 1 AM
FOOD SERVED
YES | Buffet with Dessert
from 8 - 10:30 PM
TICKETS START AT
$349