Why We Recommend
Official VIP Party for New Year's Rockin' Eve with Dick Clark Productions
Available options to watch the LIVE Ball Drop
Overview
Experience a once-in-a-lifetime New Year's Eve in New York City with the iconic Dick Clark's New Year's Rockin' Eve VIP Party overlooking the world-famous Times Square celebration and NYE Ball Drop. Part of the global tradition that is Dick Clark's New Year's Rockin' Eve - the quintessential NYC NYE evening hosted by Ryan Seacrest - this private party and viewing for VIPs takes place on the 8th and 9th floors of the beautiful Marriott Marquis Times Square and gets you front-row views over the entire Times Square NYE extravaganza: the live show and performances, the neon lights and excitement of the millions of celebrants below, and the iconic Times Square Ball Drop.
Special Appearances by: (LAST YEAR 2018). UPDATE COMING SOON

The New Year's Rockin' Eve VIP Party takes you front-and-center to NYC's Times Square, the biggest NYE celebration in the world, and the world-renowned Dick Clark's New Year's Rockin' Eve hosted by Ryan Seacrest. Party the night away amid exhilarating Times-Square-on-NYE energy as you take in amazing views of prime Times Square below and the New Year's Rockin' Eve main stage. Ryan Seacrest and the world's superstar acts – including Common Kings, Hundred Handed, and Kato - will perform live all evening, providing the perfect entertainment for your NYE celebration. At midnight, Direct Ball Drop View guests will experience an unobstructed view of the world-famous Times Square NYE Ball Drop as the party counts down with the millions gathered below. The confetti shower, the roar, and the thrilling energy of the Times Square crowd: it's going to be an unforgettable NYE night.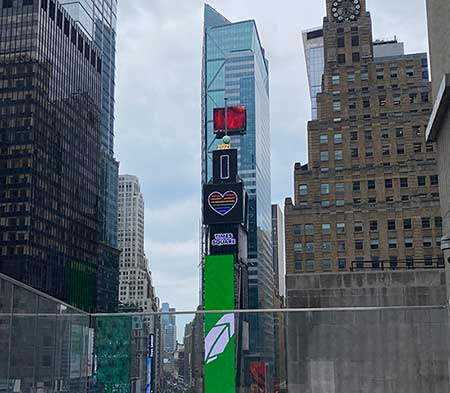 Be at the heart of the most iconic NYE celebration in Times Square with all the warmth and luxury of a first-class NYC private event. The incomparable party is hosted by the famous Dick Clark's New Year's Rockin' Eve production, the symbol of NYE worldwide. Taking place on the 8th and 9th floor of the renowned Marriott Marquis Times Square, this VIP party will lavish guests with luxurious amenities like a 5-hour premium open bar, a deluxe dinner buffet, passed appetizers and cocktails, special DJ performances, Red Carpet Entry and Commemorative Photo, sponsored giveaways, and more. The exclusive, invite-only affair boasts NYC's famed nightlife standards and offers VIP ticket packages with reserved seating, VIP Patio Access, and Ball Drop views. Situated in the heart of Times Square, a stone's throw away from the Ball Drop, Marriott Marquis Times Square features sophisticated décor – complete with beautiful orb chandeliers – and floor-to-ceiling windows overlooking glittering Times Square.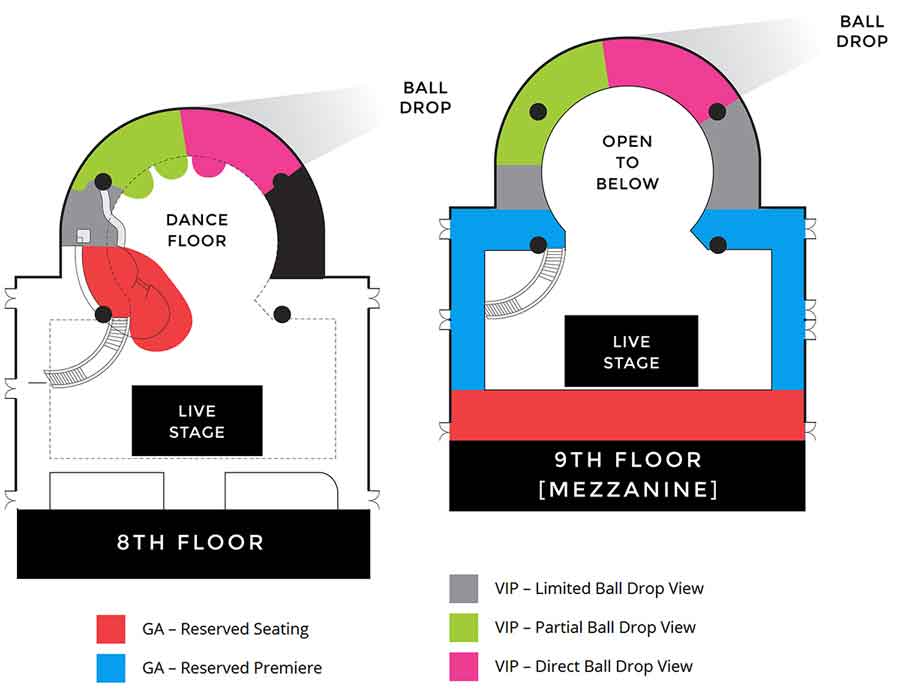 Join the inaugural New Year's Rockin' Eve VIP Party and usher in the New Year with the thrill of the Times Square NYE celebration and spectacular views of the iconic Ball Drop.
What to know
Start Time
December 31, 2018 at 8:00PM
END TIME
January 1, 2019 at 1:00AM
ADDRESS
1535 Broadway
New York City, NY 10036
VENUE TYPE
NYC New Years Inside a Times Square Hotel
AGE REQUIREMENT
21 and Over

CAPACITY
1000
OPEN BAR
YES | Premium Open Bar
from 8 PM - 1 AM
FOOD SERVED
YES |
from Passed Appetizers and Dinner Buffet
TICKETS START AT
$500